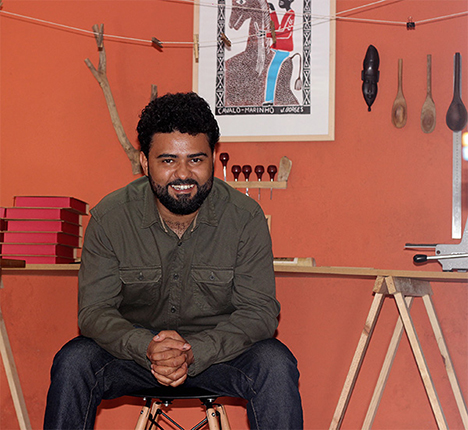 Edson Ikê
Graduating from an Advertising program at Belas Artes College in São Paulo, the Brazilian illustrator Edson Ikê has created an artistic process shaped by intense research and dialogue with diverse expression. As the Ensaio Gráfico Studio's head, he currently develops projects for many publishing companies such as Editora Moderna / UNOi Educação, Editora Evoluir; Ciclo Contínuo, Lamparina Luminosa; Sesc Santo André, Sesc Belenzinho; as well as, for some advertising agencies and architecture offices.
In his artistic journey, Ikê was nominated for the Esso and Abril Jornalismo prizes (2015), for the cover story titled "África e Brasil: unidos pela história e cultura", in Nova Escola magazine (Editora Abril), and for its digital content. In the same year, he was awarded the Movimentos Criativos prize, promoted by Brazilian organizations: Territórios Afrocriativos e Feira Preta, in creation category.
Lately, his work has been gaining international attention with the Vira-Lata Food Truck project (Australia); an illustration that represents Afro Peruvian music in Sounds and Colours magazine  which is dedicated to the Latin American cultural production. He is also being featured in an individual exposition in Smith & Lens art gallery (US — Mississippi). His first illustrated book in the US was "Soccerverse: Poems about Soccer," written by Elizabeth Steinglass and published by WordSong in 2019.
Besides the content production for digital and printed textbooks, Ikê organizes courses and lectures on illustration, xylograph, creative processes, and graphic design.