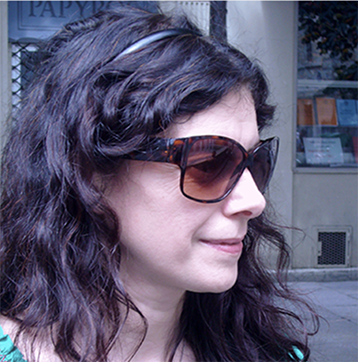 Isabel Espanol was born in Angoulême, France yet now lives and works in Paris. Since her first memories of life, she was drawn to art, creating collages and drawing as a child.
After studying comparative mythology at The Sorbonne in Paris, she later began studying graphic design and illustration. With a minor in interior design, she quickly found a job at the end of her studies as a decorator and interior designer. She worked in the decorating field for seven years while also collaborating with magazines as an illustrator.
Since 1999, she has been working as a freelance illustrator.  She regularly works with clients such as Elle and Elle international, CB News, The Festival of  Advertising , The City Hall of Paris, Le Monde, Le Monde Diplomatique, Psychologies Magazine, Clés Magazine, New Scientist, L'éléphant, J'ai luEditions (publishing), Autrement , Bayard Presse as well as diverse advertising  and communication agencies.
Some of her US clients include Adweek, Wall Street Journal, Boston Globe, Adobe, Buzzfeed News, The Trace, Washington Post, AARP and more.
Isabel particularly enjoys creating conceptual art, covers, and posters for various clientele. She has been teaching illustration and graphic design for the last decade at LISAA in Paris. In addition she conducts workshops, particularly at the ESP in Paris.