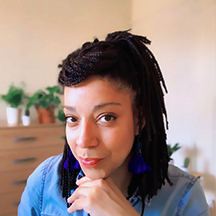 Lydia Mba was born in Madrid, Spain. Her mother is Spanish and her father is from Equatorial Guinea.
She attended ESDIP, earning a degree in Illustration, and is currently based in London, England.
She uses her work as a tool to represent diversity in art, and has enjoyed working in book publishing, editorial, video game design and advertising.
She enjoys creating warm, colourful and bright illustrations that tell stories with diverse characters and strong women.
Her clients include: HarperCollins, Rebel Girls, Auzou Editions, Benchmark Education Company, The Quarto Group Inc., Pendulo Studios, Virtual Toys, AECID, Dommo Agency, Potopoto and Pikara Magazine.