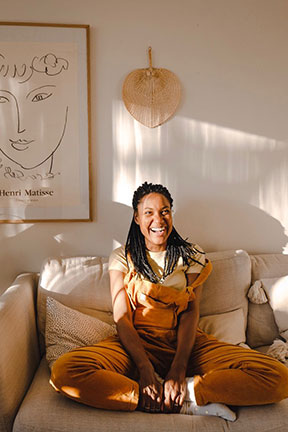 Adriana Bellet is an illustrator based in Stockholm, Sweden.
Originally from Spain -with a Spanish dad and a German mum-, she grew up in between cultures. She studied Creative Advertising in Barcelona, lived for a short while in Berlin, before moving to the UK in her early 20s. There she furthered her studies with a postgrad on Surface Design at the University of the Arts of London, where she was first introduced to illustration. After graduating she moved back to Spain, this time Madrid, and set up her own company illustrating ceramics. It took her a couple of years to realise that what she really loved was the time to design the next collection, the ceramics part not so much. However the experience taught her the self-discipline required to be in the creative business, and so, after yet another country move, she landed in Stockholm seven years ago and has dedicated herself to illustration full-time ever since.
Her weapon of choice is her iPad Pro and Clip Studio Paint, in which she creates all manners of colourful illustrations and simple animations.
She absolutely loves drawing people, and honestly believes that an illustrated portrait is the best way to capture the story, history, character, hopes and dreams of a person. She also believes that colour is the mightiest of visual communication tools and she's obsessed with finding the perfect colour combination.
During the past few years she's been lucky to work on a wide range projects for publishing and editorial. Her clients include NBC News, Washington Post Magazine, Penguin Random House, Spotify, GQ Magazine, AARP, The Guardian and Laurence King amongst others.
She works from her home studio, always with a cup of coffee at hand and a podcast playing on the background. Her zen is often crushed by her barking dog and her spirited toddler, but the two of them also offer her unparalleled inspiration, so she's made peace with that.