Natalya Balnova
Biography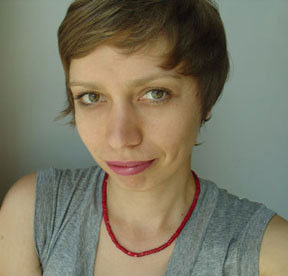 Natalya Balnova is a New York based illustrator, designer and printmaker.
She received a MFA in Illustration from the School of Visual Arts, as well as BFA in Communication Design from Parsons School of Design and degree in design from the Academy of Industrial Art and Design in St-Petersburg, Russia.
For the last decade she has worked in publishing, has designed book covers for various publishing houses, and has focused on her own projects in printmaking and illustration.
She has shown her work in galleries worldwide and has been recognized by prestigious printmaking organizations such as IPCNY International Print Center New York and The New York Society of Etchers.
Natalya works in a variety of artistic mediums, from ink washes and digital to traditional printmaking.
She illustrates for books, magazines, newspapers, posters, CD covers, posters and packaging as well as self-publishes her own silkscreen books, zines, cards and apparel designs.
She has been recognized by Art Directors Club, American Illustration, The Society of Illustrators, Print Design Annual, 3×3 Magazine, Creative Quarterly, Art Book Wanted.
Her clients include: Apple / The New York Times / The Washington Post / The Los Angeles Times / Time / The Wall Street Journal / Smithsonian / Victoria and Albert Museum / Village Voice / The Boston Globe / Blue Q / Farrar, Straus and Giroux / Hachette Book Group / Foreign Affairs / Harper Collins / Harvard Business School / Penguin Random House UK / Penguin Random House USA / A Strange Object / British Council / Brunswick Review / Canopy Beer / Centrala Publishing / Chicago Review Press / Colgate University / Counterpoint Press / De la Martinière Jeunesse / Groundwood Books / Grupo Expansión / Hyperakt /
La Guarimba International Film Festival / LaPeste Magazine / Little Bee Books / Middlebury Magazine / Modern Farmer Magazine / Nuinui Publishing / Nurant Magazine / Other Press / Princeton University Press / Scholastic / Shambhala Sun / The Chronicle of Higher Education / Vanderbilt Magazine / Quirk Books