Elizabeth Montero 
Biography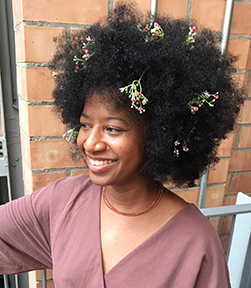 Elizabeth Montero Santa (La Flor del Tamarindo), is an Afro-feminist Dominican illustrator who currently resides in Barcelona. In her illustrations she seeks to represent black and Afro-descendant women through her own experiences where she can appreciate the nature that has surrounded her since she was a child, the plants, the bugs in her mother's backyard, the search for her Afro roots, the experiences of the wonderful women that surround her and those of all those who have tried to erase from history.
His artistic studies began with a Bachelor of Arts followed by Graphic Design, Illustration and nally Fashion Design.
In fashion design, she discovered her passion for prints and their creation, through artisanal techniques such as creating carved rubber stamps to later stamp them on the fabric on some occasions accompanied by embroidery. He has great respect for the handmade, so he constantly combines artisan and digital.
She has currently collaborated on the acclaimed Rebel Girls 2022 book series, Brennan Center For Justice on a series of portraits to commemorate Black History Month, in articles for magazines such as the Penn Gazette and Lion's Roar.